Services
Control Systems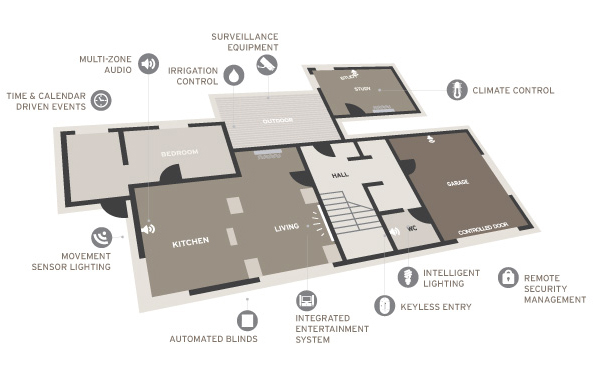 Home Automation
Integration is bringing together all of the electronics in a home or business into a cohesive system that can easily be controlled as one unit. It combines comfort, convenience, entertainment and security in a simple solution that can be controlled from a tablet, in-wall touchscreen or smartphone.
HOME THEATER
H. Customs Audio Video can help you design the perfect home theater that brings the true movie experience right in your own home. We have the knowledge and experience to weed through the thousands of products available to design your media room with the best audio and video solutions to fit the room both aesthetically and acoustically. We properly match all components together to attain a premium end result you can be proud of.
Distributed Audio
Distributed Audio Systems allows homeowners to listen to multiple music sources anywhere in the home independent of other listeners. Your favorite CD can be played in the library, wireless stream music from a cell phone to the kids rooms, and listen to your favorite FM station all at the same time.
Lighting Control
An integrated lighting system allows you to personalize the lighting in your home to suit your lifestyle. Instead of turning on or off a single light, lights can work together in any combination.
Networking
Electronics from tablets to DVD players are constantly increasing the need for a more robust network both wireless and wired. H. Customs designs each installation with a secure and reliable network that can easily handle the multitude of devices throughout your entire home.
SECURITY
Installing security cameras is much more than just watching a live image. Modern surveillance systems allow for remote viewing on your cell phone from anywhere in the world for both live and recorded images. View images from the front door when the doorbell rings automatically while watching a movie in your theater.
SHADES AND DOORS
Motorized shades and curtains can be integrated in your home to easily to create privacy or manage temperature throughout the day. Shades can automatically close in the living room when the afternoon sun reaches a certain temperature, bedroom shades can lower at night when ready for bed, or raised slowly in the morning to wake you up to the new day.
HOME BUILDING
I want to show a flow chart of the old and modern building process and how it has changed for the modern home. See separate visio file for idea. Needs work to make it presentable for web.

Key features
Areas Served
Dallas/Fort Worth Metroplex, Waco, Vacation homes all over the world
Home Automation
Home Theater
Lighting Control
Shades And Doors
Distributed Audio
Networking